Luton Airport do iz Paddington przez Golders Green
easyBus, we współpracy z National Express autokarów oferuje transfer z lotniska autobusem między London Luton Airport i Paddington przez Golders Green od tylko £2,99 w jedną stronę, gdy książka z wyprzedzeniem.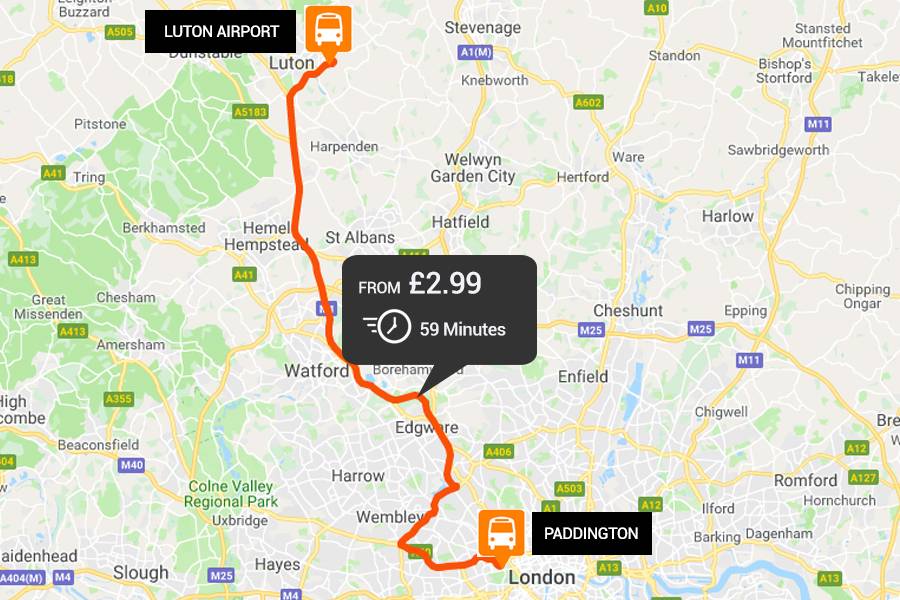 Bus Stops At:
Luton Airport Coach Station
Golders Green
Finchley Road
Baker Street
Paddington
Pasażerowie easyBus wraz z wydrukiem ich biletu powinni kierować się drogą krajową Express (a2) w kierunku Paddington z dworca autobusowego Luton Airport.
The Stops
Luton Airport Coach Station
Odbiór & drop-off lokalizacja-Luton Airport Coach Station
Golders Green
Pick-up & Drop-off Location – Golders Green
Finchley Road
Odbiór & drop-off lokalizacja-Finchley Road
Baker Street
Pick-up & Drop-off Location – Baker Street
Paddington
Pick-up & Drop-off Location – Paddington
Further Travel
Transfer z lotniska Luton do Londynu Victoria oferuje klientom szereg dalszych połączeń turystycznych na całej trasie.
Luton Airport
Usługa międzynarodowego lotniska
Golders Green
Linia Północna
Finchley Road
Linia Metropolitalna linii jubileuszowej
Baker Street
Linia Bakerloo
Linia okręgu
Hammersmith i linia miejska
Linia jubileuszowa
Linia Metropolitalna
Łuk marmurowy
Linia Centralna
Londyn Wiktoria
Kolej krajowa
Linia okręgu
Linia dystryktu
Linia Wiktorii
Klienci easyBus mogą więc skorzystać z naszych fantastycznych niskich taryf i podróżować bezpośrednio i szybko do kilku przystanków w centrum Londynu.
ceny easyBus zaczynają się od tylko £2 w jedną stronę i z przeciętnych taryf niewiele więcej niż £6, wszyscy nasi klienci uzyskać wielką wartość dla pieniędzy. Standardowa taryfa kolejowa to £15,50! Zapamiętaj wcześniej zarezerwujesz więcej zapisać.
Lotnisko Luton nie ma dworca kolejowego, stąd klienci chcący złapać pociąg do/z Londynu muszą również zająć czasochłonne autobus między lotniskiem a dworcem kolejowym. Operatorzy autobusów i autokarów przybywają/odjeżdżają bezpośrednio poza budynkiem terminala i oferują bezpośrednie połączenia z/do centrum Londynu. Bez zmian, bez kłopotów i bez noszenia walizki wokół.
Autokary wziąć tylko 40 minut, aby podróżować między Luton Airport i Golders Green, na linii północnej, i 50 minut, aby podróżować między Luton Airport i Finchley Road, znajduje się na jubileuszu i Metropolitan linii metra. Klienci mogą więc podróżować bardzo szybko między lotniskiem Luton a centrum Londynu. Inne przystanki, Baker Street, Marble Arch i dworzec autobusowy Victoria znajdują się centralnie, a także oferują wiele opcji podróży dalej, w tym dostęp do Jubileuszu, Metropolitan, District & Circle, Victoria i Bakerloo linii metra i ponad usług naziemnych od stacji Marylebone i Victoria. Idealny do podróży do/z północno-zachodniej, centralnej, Południowej i południowo-wschodniej części Londynu, w tym takich obszarach jak Maida Vale, Paddington, Lancaster Gate, Knightsbridge, Kensington, Westminster, Sloane Square, Clapham, Stockwell.
Należy pamiętać, że podróż odbywa się za pośrednictwem National Express Coach. Zarezerwuj za pośrednictwem naszej strony internetowej jako normalny, Wydrukuj bilet, a następnie upewnij się, że pokładzie trenera National Express. Odjeżdżają z przystanku 10 na lotnisku Luton, który znajduje się bezpośrednio przed budynkiem terminala.
Travel Recommendations
W przypadku pasażerów podróżujących na lotnisko Luton easyBus zaleca przyjazd na lotnisko co najmniej 2 godziny przed planowanym wylotem. When travelling from the airport, easyBus recommends booking a service at least 60 minutes after the scheduled arrival time of your flight.
Nie martw się, Jeśli Twój lot Luton przyjedzie wcześnie lub późno, możesz skorzystać z tego samego biletu bez dodatkowych kosztów, aby podróżować na następnym dostępnym autobusowym lotnisku Luton Airport, do 60 minut po obu stronach zarezerwowego czasu. Please note we cannot guarantee there will be spare seats, since passengers travelling on their booked service have priority.