Gatwick Airport to Oxford from £18.49
Today, Tue 2 April
Flughafen Gatwick nach Oxford
easyBus, in partnership with The airline offers an airport transfer bus service between the North and South Terminals of Gatwick Airport and Oxford bus station from only £18.49 one-way when you book in advance.
easyBus passengers accompanied with a print-out of their ticket should board The Airline OXF or LGW service from their Pick-up or Drop-off locations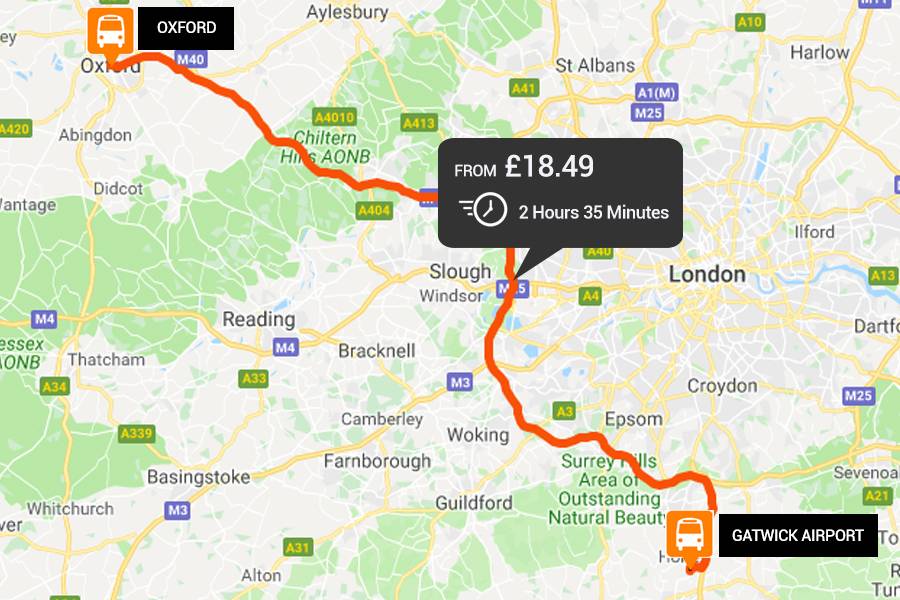 Bushaltestellen um:
Gatwick Airport South Terminal
Gatwick Airport North Terminal
Lewknor
Oxford Bushaltestelle
Please Note: There is no easyBus ticket desk at Gatwick Airport, please go straight to the bus stop shown on your ticket.
Die Stopps
Gatwick Airport South Terminal
Abhol- und Abgabestelle – Gatwick Airport South Terminal (Stand 1 und 2)
Coaches leave from the lower forecourt at the south terminal. Follow the signs from the terminal to the lower forecourt the coach will leave from stands 1 and 2.
Gatwick Airport North Terminal
Abhol- und Abgabestelle – Nord-Busbahnhof am Flughafen Gatwick (Stand 4 und 5)
Pick-up and Drop-off points are on Lower Forecourt Road, stands 4 and 5.
Lewknor
Treffpunkt – Lewknor Turn M40 J6 (Stopp B)
Rückgabestation – Lewknor Turn M40 J6 (Stopp A)
Oxford Bushaltestelle
Abhol- und Abgabestelle – Busbahnhof Oxford Gloucester Green (Buchten 6 und 7)
Weitere Reisen
Oxford Gloucester Green Bus Station is the major Bus destination in Oxford allowing easyBus passengers to easily and conveniently connect with addition local and national bus services.
The Bus Station is also only a 5 minute walk from Oxford's City Centre leaving passengers within a stone's throw of the city's shops and tourist attractions.
Reiseempfehlungen
For passengers travelling to Gatwick Airport, easyBus recommends that you arrive at the airport at least 3 hours ahead of your scheduled departure of your flight. When travelling from the airport, easyBus recommends booking a service at least 60 minutes after the scheduled arrival time of your flight.
Don't worry, if your flight arrives early or late, you may use the same ticket at no extra cost to travel on the next available departing bus, up to 60 minutes either side of your booked time. Please note we cannot guarantee there will be spare seats, since passengers travelling on their booked service have priority.