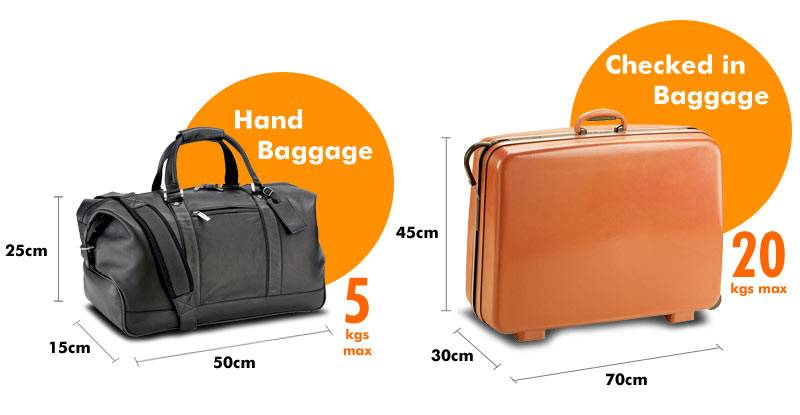 We operate different types of buses on each airport transfer route and therefore have different luggage allowances for these. Please see below our per passenger baggage allowance and also our large items policy at the bottom of this page with respect to items such as surfboards, snowboards, skis, and bicycles, etc.
Inbegriffen im Ticketpreis pro Fahrgast:
Handgepäck
Ein Standardgepäckstück
Maximale Ausmaße (H+B+L):
90 cm
Höchstgewicht 5 kg
Ein Laptop
Eingechecktes Gepäck
Ein Standardgepäckstück
Maximale Ausmaße (H+B+L):
1,45 m
Höchstgewicht 23 kg
Zwei kleine Gepäckteile können anstelle eines großen Standard-Reisegepäckteils mitgeführt werden, aber die gesamten Ausmaße dürfen NICHT die eines Standard-Reisegepäcks überschreiten.
Große Gepäckstücke: z. B. Surfboards, Snowboards, Skier, Fahrräder usw.
Bitte beachten Sie, dass bestimmte Gegenstände (Surfboards, Snowboards, Skier, Fahrräder) und bestimmte anderen Gegenstände nicht mitgeführt werden können.
Nicht erlaubte Gegenstände (Alle Strecken):
Skier, Sailboards, Golfschläger, Windsurferboards und ähnliche Gegenstände.
Rollstühle (zusammenklappbar/nicht zusammenklappbar) auf den Strecken Stansted und Gatwick, batteriebetriebene Roller.
Fahrräder (zusammenklappbar/nicht zusammenklappbar), Kinderwagen, (nicht zusammenklappbar).
gefährliche Chemikalien bzw. Substanzen, wie nach dem britischen Gesetz zum Schutz der Gesundheit und Unfallver
Falls ein Fahrgast die Busreise mit einem verbotenen Artikel antreten will, wird die Beförderung verweigert, es sei denn, der Fahrgast kann den verbotenen Artikel sachgemäß und sicher entsorgen.
hütung am Arbeitsplatz definiert.
Fahrgäste die verbotene Artikel mitführen und nicht in der Lage sind, sie vor Reiseantritt zu entsorgen, erhalten keine Rückerstattung wegen Verweigerung der Beförderung.