We skiers are blessed with having so much choice when it comes to resorts. This proves to be a bit of a curse too – how can you possibly decide where to go? How do you know which one is the best?
Fear not, as we've narrowed hundreds of resorts down to just four; each with its own qualities and charm. Here are our choices, and why they're so great.
Borovets, Bulgaria

Top facts:
Impressive length and capacity, making it one of the largest ski resorts in Bulgaria
Best suited to families and first-time skiers
One of the cheapest resorts in Europe
Why it's in our top four:
Borovets not only boasts great runs for young and beginner skiers, it has plenty to offer intermediates and experts too. There are 24 runs in total – that's 58km of ground to cover! If off-piste is more your style, advanced skiers can take on the several tree runs available.
Despite the variety of the runs here, the resort is actually very affordable. The ski school comes highly rated and is inexpensive, and nights out won't break the bank either. Enjoy the numerous great bars and clubs in the resort on nights when you're not skiing – the slopes close at 10pm!
Borovets also has the luxury of being close to Sofia Airport at just over an hour away. Getting to Sofia is easy, as you can fly from a range of airports with various airlines. You can go with BulgariaAir from Heathrow, Wizzair from Luton or easyJet from Gatwick. Luckily, getting to all three airports is simple too, as easyBus runs transfer services to all three.
Val Thorens, France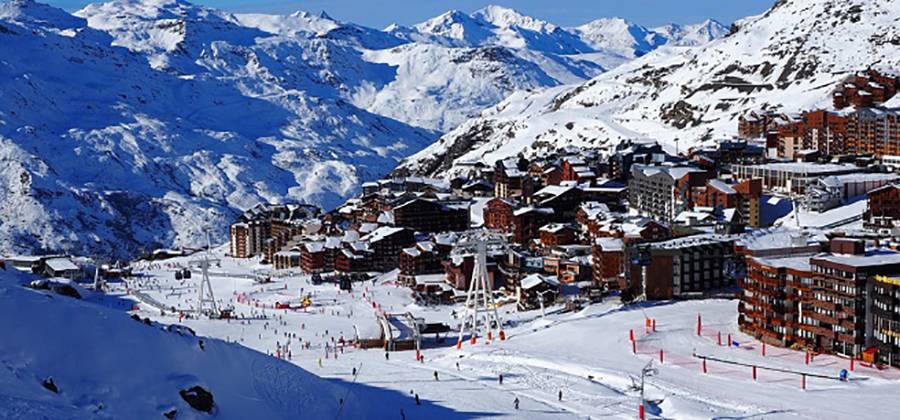 Top facts:
Highest resort in Europe at an altitude of 2,300 metres
100 per cent doorstep skiing
Why it's in our top four:
Val Thorens is a stand-out skiing destination thanks to its brilliant snowfall. The vast majority of its ski area is above 2,000 meters, meaning it is guaranteed to be thick with snow on every day of the winter season, without fail. You'll want to stay for as long as possible too, as there is 600km of connected runs to ski and snowboard. Plus, you can even ski all the way back to your hotel – or the nearest bar, if preferable – as there are no cars in the resort.
When you're sick of skiing (unlikely, we know), there are plenty of other activities to partake in either during the day or in the evening. You could try your hand at snow mountain biking and ice driving, or experience an incredible zip wire or toboggan run. Plus, there are open-air clubs on the mountain, which blast out live music to the slopes.
There are several airports not too far from Val Thoren, the closest being Chambéry. However, it's a little unreliable, as it can be closed during bad weather. Geneva is therefore a better option, even though it is three hours away from the resort. You can catch a British Airways flight from Gatwick, travel with easyJet from Luton, or fly with Swiss International Air Lines from Heathrow. Whichever London airport you choose, you can make the journey to it easy and cheap by catching a ride with easyBus.
Kitzbühel, Austria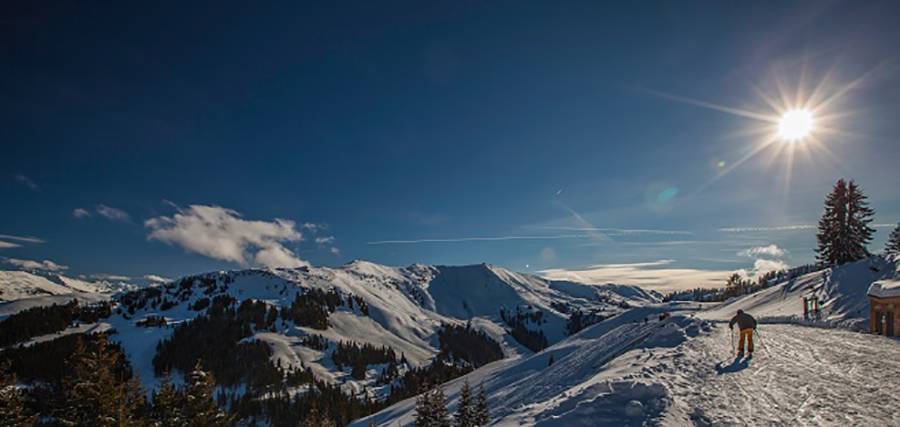 Top facts:
Known as the 'Pearl of the Alps'
54 cable cars and lifts
People have been skiing here since 1893
Why it's in our top four:
If you want to avoid the more modern resorts, then this 700-year-old village makes the perfect skiing destination. It really is traditional Austria at its best, and yet its skiing area feels fresh and new, thanks to the updated cable cars and lifts. The fact it has been voted as the 'Best ski resort in the world' for three years in a row since 2013 by Skiresort.de, the largest test portal for ski resorts in the world, is testament to its greatness.
You can enjoy 170km of beautiful slopes here, including the legendary Streif – a downhill ski race track. Most intermediate skiers will be able to take it on without too much trouble. Free riders will also be happy here, as there's plenty of deep snow and fresh powder available outside the runs. The snow is guaranteed for 155 days of the season.
The nearest airport to Kitzbüel is Salzburg, but this doesn't give you many options when it comes to airlines you can fly with and airports you can travel from. British Airways does regularly fly to Salzburg from Gatwick, so it may be your best bet. Alternatively, Innsbruck and Munich Airport are also fairly close to the resort.
Chamonix, France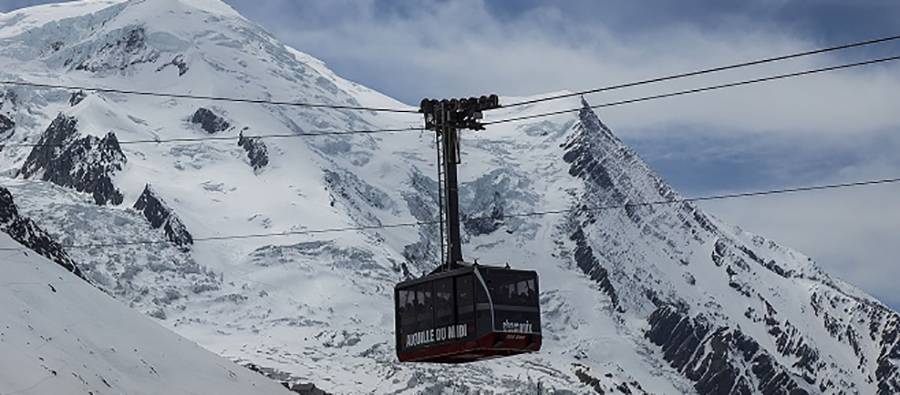 Top facts:
Located at the foot of Mount Blanc
Suited to skiers of all abilities
One of the oldest ski resorts in France
Why it's in our top four:
It's easy to see why skiers return again and again to Chamonix; the runs are long and varying – you'd be hard-pushed to run out of ones to try. The ski area is so expansive that it caters to riders of all abilities. At the bottom of the valley, you'll find the gentler slopes aimed at the not-so-confident or brand new skiers. However, there's nothing to stop you moving higher up the valley once your skills improve.
Skiers looking for a greater challenge will certainly find that when they catch a lift to the higher part of the mountain. With routes for experts as well as beginners, the range on offer up there is impressive. From here, you'll also be able to access the resort's amazing backcountry terrain.
Chamonix is just a short bus trip away from Geneva Airport – a direct ride with easyBus will only take one hour and five minutes, allowing you to get on the mountain as soon as possible. As previously mentioned, many airlines fly to Geneva Airport from a variety of locations, although easyJet has the widest choice of airports.
Please note that you cannot bring skis or snowboards on any of our buses heading towards or from London Airports. However, we do allow them on our Chamonix buses – you can read more about our luggage allowances here.
Your budget and your skiing skill level will ultimately determine which resort you decide to visit this winter. Wherever you choose to go we know you'll have a fantastic time, and if you're a first-timer, we recommend reading our blog on what you should take, before you go.