easyBus offers low-cost travel by tram from Edinburgh Airport to the Edinburgh city-centre.
Travelling to Edinburgh? easyBus now offers low-cost travel by tram from the airport directly to the heart of the city. Pick up the tram directly outside the terminal building and speed to Edinburgh Princes Street in as little as 30 minutes.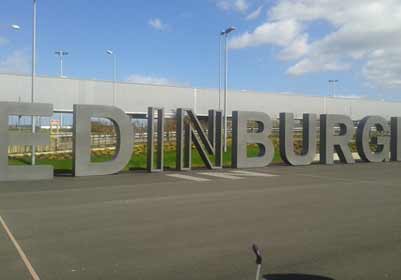 Edinburgh Airport to the Center of Edinburgh
Edinburgh's airport is located 8 miles away from the city centre. It can be reached from Princes Street in around 30 minutes. Book your tram today at easyBus.com

About Edinburgh

About Edinburgh
Edinburgh is the historic and political capital of Scotland. Always on a tourist's schedule, Edinburgh combines medieval relics, Georgian grandeur and contemporary avant-garde. In Edinburgh, medieval palaces rub shoulders with the best of modern architecture. Edinburgh is home to the world-famous Edinburgh Festival which runs annually in August. 
Things to see and Do in Edinburgh
Peebles, a Historical Town set in the beautiful Tweed Valley. The town offers a very interesting historical town walk, we have lovely individually owned unique shops, a weekly market (Thursdays) and an array of eating places and coffee shops.
Fife is a predominantly rural county, with some lovely old towns and villages dotted throughout. This is the coast which can be seen across the Firth of Forth from many viewpoints around the city. It's easy to get to via the twin road and rail bridges across the Forth.

The Pentlands Hills Regional Park is a low-lying hill range to the South of Edinburgh, popular with walkers and cyclists. Getting there takes around 30 minutes on the bus, or 45 minutes by bicycle from central Edinburgh. Cyclists are allowed to take bikes on buses run by MacEwans Coach Services which stop at the Flotterstone Inn.